Cartrips for newcomers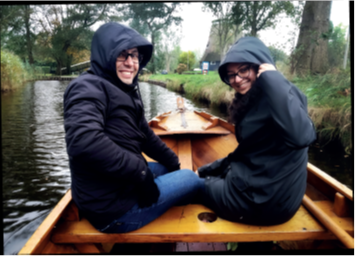 Are you a newcomer and would you like to get to know the Netherlands better? Then I offer you the possibility to go out together for free in my classic car.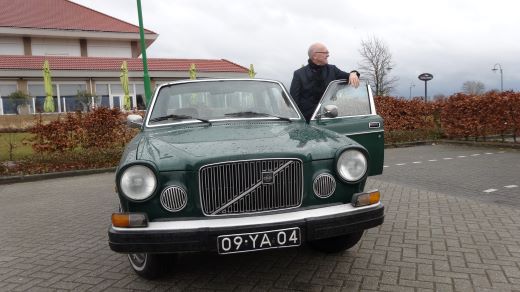 Where are we going?
Before we go out, we always discuss where we are going and what we want to leave behind to see. Think, for example, of all kinds of special cities and villages, landscapes, areas and (water)works. You choose, we drive and tell and together we enjoy the journey.

Who will be riding with you?
Besides you, up to two of your friends or family members can ride along. During the ride I will be the driver and also a male or female colleague will go along to tell us something about the Dutch language, nature, culture or history.
Reactions
Lilav and Shiyar from Syria wanted to go to Giethoorn:
"Great that you are thinking of new Dutch people. That gives us and many newcomers chance to feel at home, but also a chance to experience the specifics of the Netherlands, which we get to experience in real life during the integration... We often have heard about Giethoorn heard and seen in videos. We were able to it because of you."

Ali Frank from Iran with their little son Arvin who also wanted to go to Giethoorn:
"Giethoorn is a beautiful tourist town surrounded by water and accessible by boat must explore. These were the things I had heard and always wanted to see. But with the conditions we had, we could not fulfill this request. When we found out came that someone would indicate us to do this, we immediately took action undertaken. It really was like a miracle after years away from all the fun. And we saw Giethoorn up close, it was really beautiful, we really got an unforgettable day, with that beautiful classic car and that very beautiful, old house, such a dreamy place, it was like we were dreaming. I really can't express our inner feelings for that day. I can only get out of the ground from my heart thank those who left dream moments for us to happen."
Nilofar and Mustafa from Afghanistan about their visit to Den Haag: "My trip to Den Haag with Mustafa, Geert, and Leny was fantastic. We drove from Malden in an antique auto and enjoyed beautiful landscapes on our way. We first visited an old and famous hotel in Den Haag, which was updated from the time Indonesia was under Dutch rule. The inrichting there was similar to a hotel in my hometown Afghanistan. We learned a lot about Den Haag's history while riding around the city. Leny provided us with a lot of information about the city's history and the beautiful historical sea. We were amazed by the warm sea, beautiful beaches, and the friendly locals. We then went to a restaurant on the sea to eat, which was all in Dutch, and I used Google Translate to understand it better. Overall, it was a wonderful trip, and we took many great photos and selfies."
Mehmet Yuca about the half day trip through the Overbetuwe (between Nijmegen and Arnhem): "Travel with the told Volvo. It was a very useful trip for us to get to know our surroundings. Me and my family enjoyed it very much. We were also able to get to know Dutch culture better. We really liked Doornenburg Castle. I dreamed that I lived there in ancient times."


If you want to know more or to make an appointment, email, call or app me.